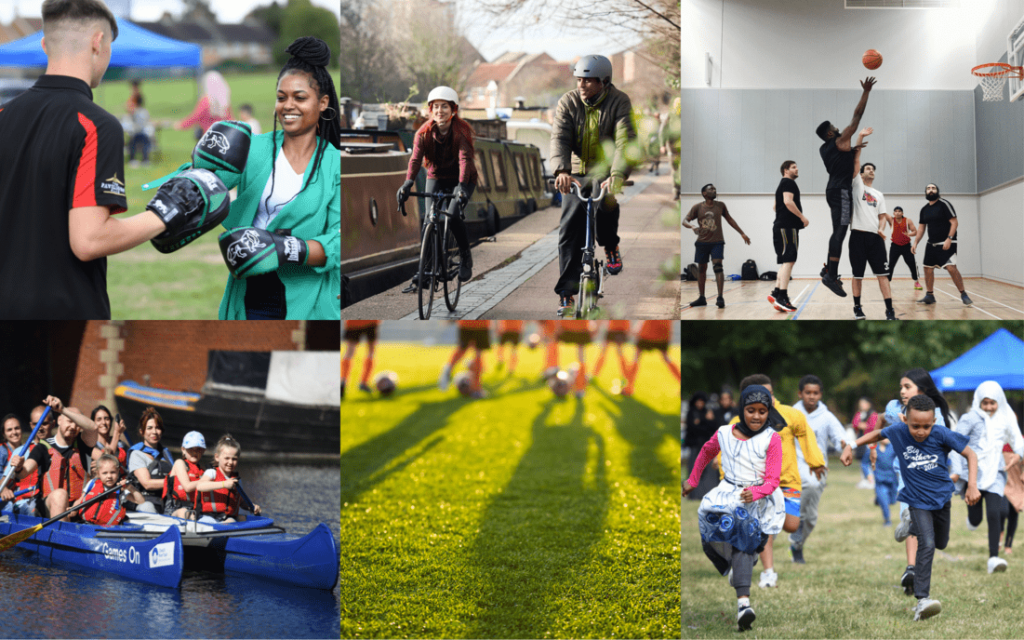 Active Birmingham is a partnership between Canal and River Trust, The Active Wellbeing Society, Birmingham City Council and Sport Birmingham. The fund forms part of the Birmingham 2022 Legacy, bringing communities and people together to improve wellbeing and act as a catalyst for change across the region. Furthermore, the fund wishes to promote and encourage people and organisations to work collaboratively together.
Active Birmingham has five strands, they are:
1. Active Environment
2. Volunteering
3. Social Prescribing
4. Walking and Cycling
5. Children and Young People
We aim to support community organisations that can help us move towards achieving four key long-term outcomes:
Physical activity becomes the norm.
Inequalities around physical activity are reduced.
Systems are changed to remove/reduce physical activity barriers.
Sport and physical activity is accessible and integrated into daily life.
Active Birmingham funding is concentrated in the following geographic areas:
Lozells
Sparkbrook and Balsall Heath
Alum Rock
Heartlands
Castle Vale
These areas have been selected because they have high levels of both deprivation and inactivity, and four out of the five areas have a high proportion of young people. There are both challenges and opportunities for these areas. Analysis of insight data, and partner/stakeholder engagement has identified the following challenges:
Low Level Skills
Low levels of physical activity
High Unemployment
Population density is highly concentrated in some parts
Outdoor spaces are limited, and they are perceived as unattractive and unsafe.
Remaining Local Community Tensions
Youth providers are finding it more challenging to deal with the multiple needs young people face post Covid-19. At Sport Birmingham we want to use our influence to encourage local youth providers and wider system partners to work more closely and connect with each other. We aim to initiate system change around how young people are supported in the community.
This project aims to work with various youth providers and wider system partners across the city to gain insight and understanding around the barriers that surround community sport, qualifications, and work experience for young people. This will be achieved through sharing knowledge, resources, assets and skill sets.
Disability Focus
Based on in-depth consultation with disabled people (via colleges, community organisations and GP Surgeries), 2 clear barriers to participation in Sport and Physical Activity were identified:
1. Previous negative experiences when attending mainstream sessions (Lack of knowledge of coach, session not being adapted)
2. Lack of awareness of opportunities – not knowing what sports are on offer they could take part in
Following this consultation, 2 key themes have been identified to help tackle the challenges mentioned above:
1. Workforce Development (To increase confidence and knowledge of coaches/volunteers)
2. Increased Delivery across the City, co-produced with Disabled People.
Workforce
We have commissioned Access Sport, a National Charity to lead the Workforce Development theme. As part of this work they will deliver:
Disability Inclusion Training Sessions across the 5 identified priority wards to increase general knowledge/awareness
Further mentoring and support to an additional 2 groups within each area who require it/want to develop in this area. Linking to other training opportunities/CPD across the City when appropriate.
Create a network of community organisations/clubs to support and share best practice with each other.
By investing in the community workforce, we hope that if a disabled individual attends a session, they will have a positive experience, increasing the likelihood of sustained participation. We will monitor confidence/knowledge of community organisations throughout the duration of this programme.
Delivery
Both the Aston Villa Foundation and The Albion Foundation will be leading the delivery element of this work. AVF will be focusing specifically on engaging with Disabled adults in Care Homes across the 5 CAC Areas, with TAF specifically focusing on young people in Lozells. They will deliver:
1 x Inclusive Event each, working with NGB's & other local delivery organisations showcasing the range of existing sustainable opportunities to be active in the City.
2 x Blocks of 12 weeks of delivery of an activity, based on consultation with disabled individuals.
Through this work we hope to connect disabled individuals to a number of organisations who provide inclusive activity in the city and develop their confidence to attend sessions more regularly. We also hope to test and learn about the type of activity disabled people want to see, to inform future provision across the community.