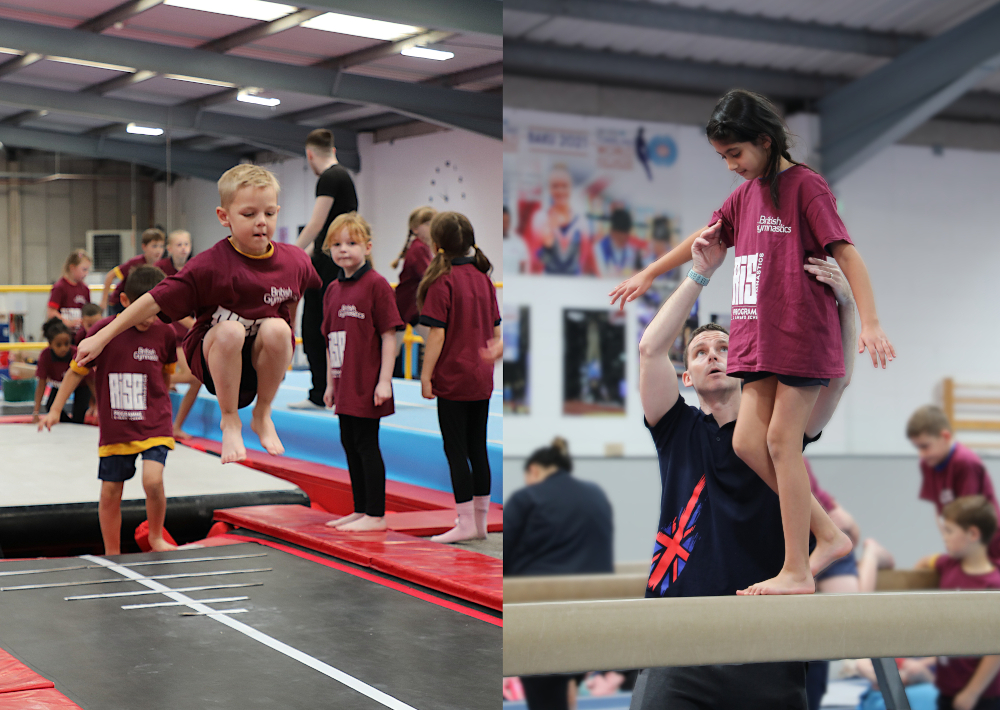 In October 2023 over 100 Birmingham primary school children who rarely engage in sport jumped, balanced, and bounced as they got the opportunity to try out gymnastics!
As hosts of the FIG World Trampoline Gymnastics Championships (9 -19th November at Birmingham Utilita Arena), Birmingham City Council together with British Gymnastics and Sport Birmingham, facilitated an experience to create a lasting impact within the city extending beyond the World Championships.
Children from 10 different schools from across the city came together for the Birmingham School Games Rise Gymnastics Experience, held at Revolution Gymnastics Club, Selly Oak. The aim of the day was to inspire children to be more active via a fun friendly inclusive environment away from school. A couple of familiar Birmingham faces joined the children, providing encouragement – Perry the Bull and British Artistic Gymnast Joshua Nathan.
Dom Elsom, World Trampoline Championship Director, commented
"We want to ensure that Birmingham communities are at the heart of the Championships. Today's experience is just a part of our wider social impact programme to support and engage the people in Birmingham. Today has been a delight – to see so many happy faces light up as they mastered new gymnastics skills cheered on by Perry was incredibly rewarding. For many, this will be their experience of gymnastics and hope both the children and teachers here today continue to embrace the sport here in Birmingham."
James Grinsted, Senior Partnerships Manager – Education for Sport Birmingham, explained
"We are passionate about ensuring that children in Birmingham feel a connection to the major events that are taking place within their city. Events such as this where they have been able to participate in new activities in a fantastic venue and be encouraged to take part in sport provide inspirational opportunities for young people. To enable this inspiration to continue, each school has access to the RISE Gymnastics resources so the activities can be continued within their school, and they will all be attending a day at the World Championships to enable them to feel further inspired and connected to the event."
With teachers playing a pivotal role in the lives of young children, support, guidance, and continued mentoring by British Gymnastics coaches will help deliver gymnastics as part of the school games curriculum long after the Championships are over.