evaughni was placed at Sport Birmingham as part of last year's Coach Core apprenticeship programme. After impressing with his coaching skills, professionalism & great attitude he was offered a full time role. He currently splits his time between MAD Birmingham and the Breaking Boundaries project within Sparkbrook & Edgbaston. Here's his story: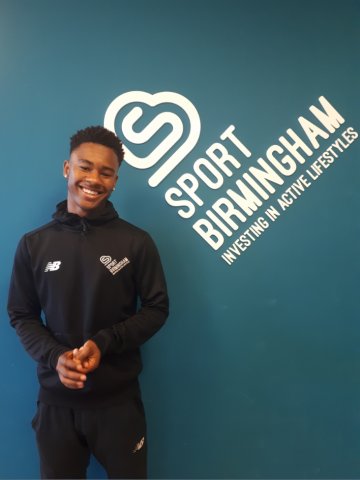 "Before I started the coach core apprenticeship, I wasn't really doing much I was working as a laborer at a PVC window making factory. I was always interested in working in sport, but thought there wasn't many opportunities to work in sport and navigated towards engineering, where I studied it at college. As I played for the college football team, my tutor asked why I wasn't studying sport. I made the decision to leave college and start working. In 2017 I was looking for a sports apprenticeships and came across coach core. I spoke to a member of staff who told me more about the apprenticeship, applied and attended a recruitment day, where I was successfully accepted onto the programme.
During my time with Coach Core, I was supported by Sport Birmingham as well as Laurel Road Community Centre who provided me with the opportunity to work but also to gain a range of coaching experiences and interact with the community.
The factors that were key to my success were being able to attain further qualifications, the different work opportunities in different settings and meeting the Royal Family. One of the main challenges was the education days, however the tutor was really flexible when arranging time to meet and ensuring I completed the course.
I'd definitely recommend Coach core to others, it allowed me to work in a field I enjoyed, try new experiences by pushing me outside my comfort zone, gain further qualifications, meet new people & have fun.
Further to this coach core has had a big impact on my life it's given me a platform where I can express my feeling and also have an impact on others. It's also given me the confidence to go out and challenge myself to do greater thing."