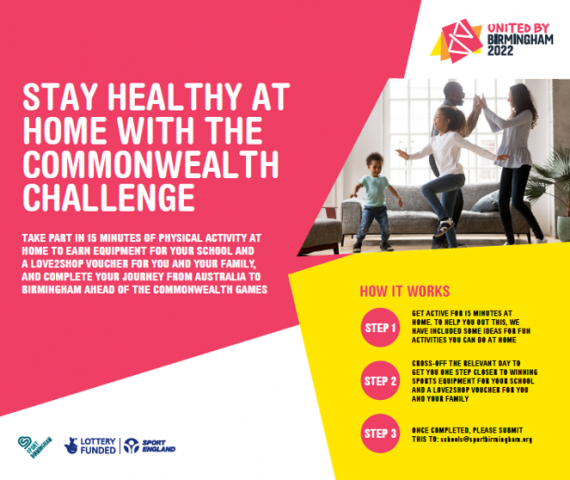 Birmingham's Commonwealth Games are next year. Sport Birmingham want to make sure that, despite the challenging circumstances presented by COVID-19, our city's children are as healthy and active as possible when the Games arrive.
Families with primary school age children can earn prizes for their school and travel the globe by completing 15 minute activity challenges at home during the school closure.
Families that complete the challenges will enter a prize draw for…
1.) £150 shopping voucher (to spend on sports equipment)
2.) A day with a Team England Athlete for their school.
3.) £350 of sports equipment for their school.
Sport England data shows that 3 in 10 children are less active than usual during the pandemic, and 40% of children now do less than 30 minutes of physical activity a day. In Birmingham, 2 in 5 children are classified as obese in year 6, and this figure is expected to increase because of the school lockdown.
The aim of the new resource is simple – reverse the declining health trends by engaging children in activities that are safe and easy to complete; even for the busiest of families that may be juggling homeschooling with work commitments.
Each day of the challenge provides a different link to a fun and exciting activity.
On some of the days, children are prompted to learn facts about the countries and cultures that will be visiting Birmingham for the Games in 2022.
Click here to access the resource here
Completed resources should be submitted to: schools@sportbirmingham.org
Sport England Chief Executive, Tim Hollingsworth said:
"Being active is a vital tool to help us cope mentally with the challenges the months ahead will bring and physically to be fitter and healthier, to boost our immunity and to ward off illness.
We know that people face real challenges right now in their daily lives, whether that's anxiety about the virus itself, financial concerns or uncertainty about what is or isn't allowed. Our message is that there has never been a more important time to take some time to be physically active."
Nikki English, Project Officer at Sport Birmingham and Parent said:
"We were lucky enough to trial the Commonwealth Challenge resource over the last few weeks and my daughter has LOVED it. Ticking off each day on the challenge is a great way to keep her motivated. I encourage all parents to get involved."
Sport Birmingham Chief Executive, Mike Chamberlain said:
"It is crucial that we keep Birmingham's children moving during the pandemic and we are happy to help in any way we can. I encourage all schools to distribute the resource in their home learning packs"