My Commonwealth Games journey – Adam Warden
I joined the Birmingham 2022 Organising committee back in May 2021, a strange time to start a new job as many people were still working from home as we started to come out of the back end of the pandemic. My role at the Games was Volunteer Manager as part of the Games Family Services team, this was a wide-ranging role that included the workforce planning, recruitment, training, and deployment of staff / volunteers at games time. In the lead up to the Games my primary role was to understand the requirements of the competing nations and develop a volunteer plan that reflected these needs. Volunteers in the Games Family Services area were split in to two distinct teams – those who would support the day-to-day operations of each nation, working in the three athlete's villages and those who would provide hospitality services at the Games venues to dignitaries and government figures from across the Commonwealth.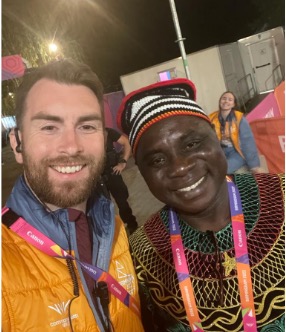 The diversity of the Commonwealth and the nature of roles I was recruiting for, meant my experiences working for Sport Birmingham and with communities across the city were critical to me developing a plan that was reflective and inclusive in nature. It was hugely important to me that volunteers had a range of skills and experiences but that didn't need to event specific. It was the volunteer's transferable skills such as communication, organisation, determination, and passion that were most important. My role was then to give volunteers the confidence and tools to undertake the daily tasks identified by the teams they were working with. In total my team delivered 23 training sessions to over 750 volunteers, followed by hours sat in front of excel spreadsheets planning individual shifts and matching volunteers to roles where we thought they would be best suited. This was only possible through the deliver of training that engaged our volunteers and gave my team the opportunity to build relationships as we all prepared for the main event.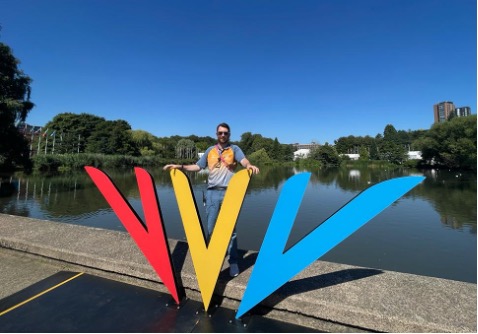 On the 18th July I moved into the Athlete's village at the University of Birmingham, with my role transitioning from Volunteer Manager to Games Services Centre Manager. The Games Services Centre is the heartbeat of any village and is where staff from competing teams would come to sort everything from transport, accreditation and ticketing to competition entry, training schedules and of course to deal with problems. In the lead up to athlete's moving into the village, everyone from staff, volunteers and teams had to pull together to prepare rooms and facilities to ensure we could provide the best environment possible for those competing at the Games. Each day was different, and our volunteers really did themselves proud in what was a hugely challenging environment, including navigating a Royal visit from the future King, as we managed the movement of over 2,000 athletes to Alexander Stadium for what was a spectacular Opening Ceremony!
There are to many highlights to mention them all, but my proudest moment has to be witnessing Solomon Islands Triathlete, TJ Irowane, crossing the finish line at Sutton Park on the first day of competition. After losing his luggage on route to Birmingham from halfway around the world, I spent the week trying to organise a new Tri-suit so he could compete. After sourcing a suit from a local provider that could meet competition regulations, volunteers collected his new suit the night before delivering it to TJ just in time.
I took so much from my time working at Birmingham 2022 and looking back am hugely proud that I was able to have a small part in delivering such a fantastic event. The energy across the city was clear to see and I have spoken to so many people who were enthused by the Games coming to Birmingham. It showed to me the power that events can have on galvanizing our communities and now I am back at Sport Birmingham, I cannot wait to harness that energy to help contribute to the delivering a lasting legacy.
2022 – a year like no other! – James Grinsted
After starting a secondment in September 2021 to lead on the schools' programme for the Games, I had no idea what was to transpire in 2022. Being a part of the largest sporting event to ever happen in Birmingham was a really special experience and allowed me to further develop connectivity with schools and partners in the city and across the wider West Midlands.
The only way to describe the experience was as a rollercoaster with many challenges to overcome and successes to celebrate. The youth programme – Bring The Power – engaged with over 300 schools in Birmingham and many more across the region, allowing close to 1 million young people in total to feel inspired by the Games.
Some of my personal memories would include the many great school events that were delivered, engaging with young people and families at Festival Sites across the city during Games time and to work as part of the Opening Ceremony at Alexander Stadium.
To play a small, but vitally important role within Birmingham 2022, is a proud moment within my career.