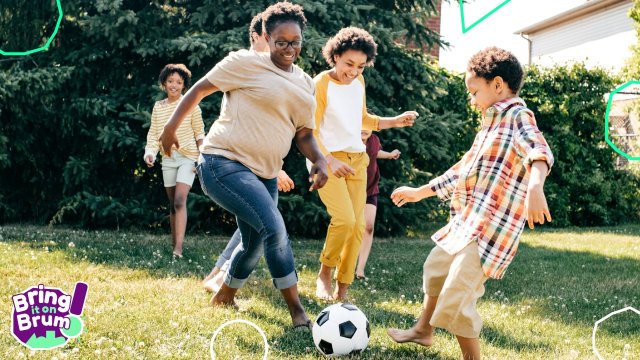 'Bring it on Brum!' is a programme that's helping Birmingham's children, young people and their families have active, fun-filled and healthy school holidays.
Part of the government's new nationwide Holiday Activities and Food (HAF) Programme, 'Bring it on Brum!' is the biggest scheme of its kind in the country, and we're really excited to bring it to you.
We believe that everyone deserves a good break and that school holidays are better when there's a great choice of things to do to keep children and young people active and entertained. Such a break can help recharge the batteries, give parents a bit less to worry about and get kids ready to go back to school again.
Our website is now ready so read on and check out www.BringitonBrum.co.uk
So where is it?
There are over 200 organisations providing holiday activities across the City, they range from schools, leisure centres, youth centres and community groups.
Our handy Google Map shows all of the providers – click on an icon to see details of the provision, age group, start dates and times and how to book or make contact with them. Stick to the green icons as they are open for bookings. Red icons show provision that is full or not open for bookings at the moment.
CLICK HERE FOR THE BRING IT ON BRUM! GOOGLE MAP
Who is it for?
The Department for Education has designed and funded this programme for children who access free school meals. The approach in Birmingham will see targeted universal provision across the City, serving disadvantaged communities, those most vulnerable and those most impacted upon by the pressures of school holiday periods.
Our programme is open to all children aged 5 to 16 years who live or go to school in Birmingham. Some providers, like the Birmingham Leisure Centres have a paid option for those not in receipt of free school meals, they have free places for those that are. Many other providers are offering programmes that are free and open to everyone.
Neighbouring local authorities have programmes too; click the name for the link to their programme information. These may be useful for families who do not live or go to school in Birmingham. SOLIHULL, COVENTRY, DUDLEY, SANDWELL, STAFFORDSHIRE, WALLSALL, WAWICKSHIRE, WOLVERHAMPTON.
How to Book
Some organisations, like the Birmingham Leisure Centres are taking bookings via our booking website; the website is managed by StreetGames who are managing the overall programme, this is why you will see their name in the website link.
More and more organisations are adding their sessions to the booking website so please check back regularly if you can't find an activity in your area.
Not all organisations are taking bookings via the booking system, so their contact details are on the Google Map see link above. The ones that are listed as Direct Contact will show you how to get in touch with them, usually by email, phone or Instagram.
CLICK HERE FOR THE BRING IT ON BRUM! BOOKING WEBSITE
Online Activity Portal
For all young people and families, we have created an online portal packed with free ideas and resources to keep the whole family busy, with indoor and outdoor games, quizzes, dance, nature trails, park activities, food videos and cook-alongs and so much more.
When ready, you will be able to find all of these activities on our website. We are hoping the portal will launch during the first week of the school holidays so check back regularly; www.BringitonBrum.co.uk
Social Media
We're incredibly excited about the programme and we want everyone else to feel the same. So, keep an eye out for 'Bring it on Brum!' on social media, online and across the city this summer – and help us spread the word.
And you can follow us on Twitter, Facebook and Instagram at @BringitonBrum.
If you have any questions at all, please do not hesitate to get in touch. Our email address is: Birminghamholidayactivities@streetgames.org. We get a lot of emails so please bear with us if you do make contact.