Who is the National Junior Games suitable for?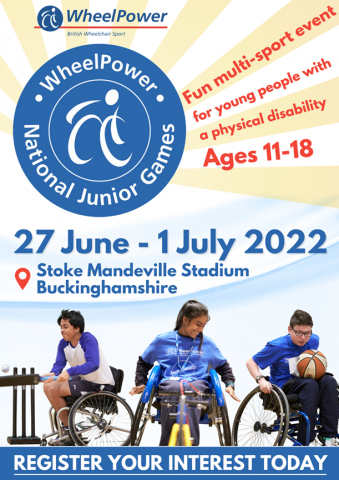 Physically disabled young people aged between 11-18.
What happens at WheelPower's National Junior Games?
The National Junior Games is a residential sports event where young people have an opportunity to try a variety of wheelchair sports including; tennis, basketball, fencing, boccia, football, table tennis, badminton, golf, rowing, laser shooting, athletics, swimming, archery and aerobics.
The ethos of the Games is to "Achieve your Personal Best". Participants will experience high quality coaching from qualified coaches before taking part in fun challenges, with the aim being to achieve their personal best throughout the week.
Who looks after the young people?
Young people will attend as part of a school group or with a parent.
Accommodation
Dormitory accommodation is provided, along with on-site hotel rooms.
What is the cost?
There will be a minimal cost per resident participant of approximately £80 for the week. Non-residents will pay approximately £40.
Date
Tuesday 28 June to Friday 1 July 2022
Location
Stoke Mandeville Stadium, Aylesbury, HP22 1PP
What happens next?
We will contact you in September with an official entry form.
Who to contact?
If you require further information, please email sport@wheelpower.org.uk