Two tennis 'activators' in Birmingham are on a mission to shake up tennis in the UK. And they've won the backing of Judy Murray, the LTA and Sport England.
They are Carolle and Iman, (pictured below) LTA Level One coaches, who are delivering free tennis to dozens of women and children from diverse backgrounds in Birmingham.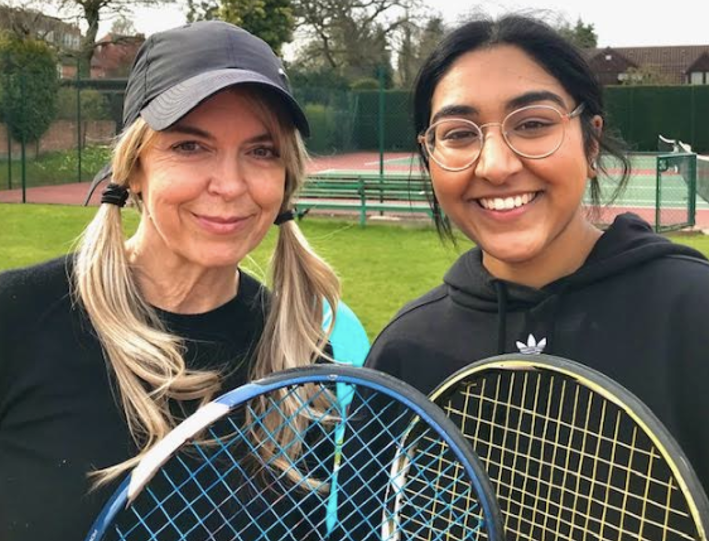 Every week women who've never played before pick up a racket and are starting to love tennis. Women from South Asian, African and Caribbean backgrounds, women with disabilities, women with toddlers and babies.
And it's all happening in the year that Birmingham takes centre stage hosting the XXII Commonwealth Games in July.
Carolle Forde Garcia and Iman Mahmood, who met in 2021
on a tennis training course, clearly love tennis and they love their city. But whereas Brum boasts a rich and vibrant ethnic diversity, they can see tennis in the UK doesn't reflect that diversity.
"We want to change that and make tennis open and welcoming to everyone – whatever your background, your sex, age or ability," says Iman.
"Tennis is brilliant at boosting your physical and mental wellbeing and we want everyone to be able to enjoy those benefits," adds Carolle.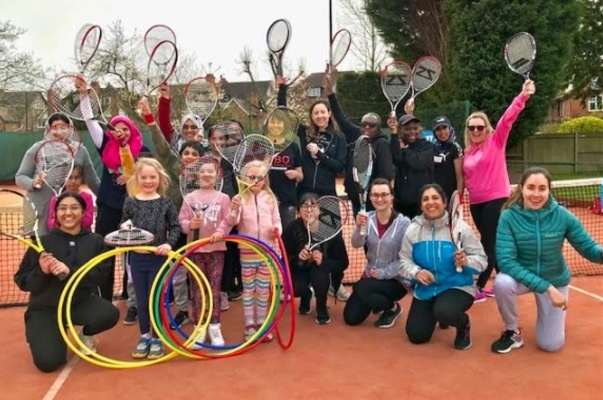 The Carolle and Iman Tennis programme pilot was launched in January 2022.They won funding from the LTA's She Rallies campaign, headed by Judy Murray, which aims to get more women and girls into tennis. Carolle and Iman, who are trained She Rallies Activators, offered free beginners tennis sessions to women. They sent flyers to mosques and temples and community centres. The photo on the flyer showed a woman wearing a headcovering holding a racket.
"We said just pop on your trainers and come down to the courts. It's fun, free and friendly. And they did!" says Iman.
In six weeks more than 70 women had signed up. 70 per cent were from diverse ethnic backgrounds. Muslim, Hindu, Sikh, African, Caribbean and women with disabilities.
"The response was overwhelming. Our sessions were oversubscribed. We had a waiting list!" says Carolle. "We could see that so many women wanted to play but up until that point they didn't feel like they were being invited to join in."
"Many told us they had not played any sport since school – sometimes 30 or 40 years ago!" adds Iman.
"And now they absolutely love it."
Carolle says "Many of the women say it's given them more confidence, makes them feel less isolated, less stuck in the house, particularly since the pandemic.
"They say it's lifted their fitness and mental wellbeing levels and they've made new friends."
The pandemic and months of lockdown have hit many people badly, particularly women, increasing problems of social isolation.
"When we play tennis together or sit and have tea and cake in the clubhouse it feels like communities are being brought together," says Iman.
The pilot was so successful that Carolle and Iman's free tennis programme is starting up again at the end of April 2022. Sport England was impressed with the pilot and has now awarded funding to help the programme continue until December 2022. Carolle and Iman are now focussed on attracting even more women into tennis, determined to help make the sport more inclusive.
"The LTA's Inclusion Strategy sets out to change the culture of tennis in Britain to be more inclusive," says Carolle. "We are banging the drum for the LTA – we really want this beautiful sport to be a lot more inclusive.
"We think what we're doing here in Birmingham could be a game-changer and, who knows, it could eventually be repeated across the country," says Iman.
In a video message to Carolle and Iman, Judy Murray, former British Fed Captain and tennis coach, said: "Love what you're doing, love that you're doing it together!"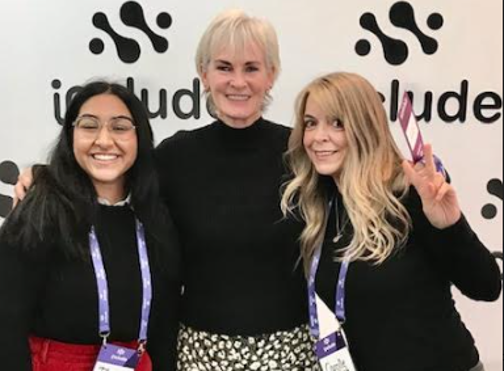 "Love the fact that you've got so many women from diverse backgrounds coming along. It's absolutely what we want to do in terms of opening tennis up to more people, to different communities, to new audiences. And, of course, growing the female workforce and female participation at the same time," Judy added.
Carolle and Iman are available for media interviews.
carolleandimantennis@gmail.com
07764 335 771
Twitter @carolleandiman