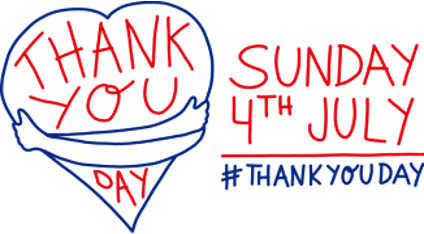 ● The UK's biggest sports have come to together to thank fans, the grassroots network, volunteers, and key workers for helping keep sport going during the pandemic
● National Governing Bodies and big-name stars encourage grassroots sports clubs to hold participation and celebration events on Thank You Day, Sunday 4 July
Some of Britain's biggest sporting bodies and best-loved sport stars are coming together to say thank you to the army of fans, grassroots volunteers and support workers who have helped them and their sports keep going throughout the last 18 months.
The governing bodies and elite competitions of football, rugby, cricket, tennis, and a host of other high-profile sports, are keenly aware that their fans and grassroots levels sustain them. The challenges of the pandemic have brought just how critical this support is into sharp relief.
Harry Kane, England and Tottenham Football Captain: "As a squad, we have a big summer ahead but before we kick off we wanted to be part of saying thank you to everyone who has got us through the past 18 months. We all have people to be grateful for and the national 'Thank You Day' is a moment we're proud to be a part of. Whoever you're thanking, join your neighbours and communities and say thank you together."
Gary Lineker, BBC sport presenter and former professional footballer said; "It's a big summer of sport, but there is one fixture not in the sporting calendar I want to highlight. On Sunday 4 July, all sports fans should come together and celebrate Thank You Day, as an opportunity to express their gratitude to all those who have helped keep sport going, anyone else that has supported them, and to start the process of helping sport, and its communities, to getting back to being a normal, everyday part of people's lives.
Coming together on Thank You Day is not only important in recognising the efforts that have helped keep sport going. But to also recognise the importance of sport as a force for good in community, education and health as we move forward."
England Rugby Union head coach Eddie Jones said: "At England Rugby we are very happy to mark Thank You Day and recognise the exceptional work done at grass roots level across the country, in rugby and in all sports.
"We know it has been a tough time for everyone and sport has a special way of lifting and uniting people. To those who have dedicated their time to keeping grass roots sport going, giving people an outlet and something to look forward to, thank you. We look forward to recognising your contributions at Twickenham before our game against the USA."
Jamie Murray OBE, Seven-time Grand Slam doubles winner Davis Cup champion, said: "Sport and physical activity is so important and has kept many of us going throughout the pandemic. I'd like to thank all the community coaches and volunteers that have supported our young people. I'm looking forward to celebrating with the rest of the nation on 4th July."
Like the rest of the country, the sports sector is acutely aware of the role of volunteers and front-line workers in helping keep matches and events going. This meant that much-needed revenue kept coming in to help maintain the future funding of sporting pyramids, as well as providing a degree of respite and entertainment.
Each organisation is thanking those who are most relevant to them, and their individual networks. But they are also encouraging grassroots clubs and individual fans to get involved in Thank You Day, and make it a day when sport helps bring communities together. They hope to use Sunday 4 July as a tipping point for the country to get back to enjoying playing, watching and supporting sport, and cherishing the role it plays in national life.
Ian Hewitt, Chairman of the AELTC, which stages The Championships, Wimbledon, commented: "One of many community sporting events taking place on Thank You Day will see 'Middle Sunday Opened Up' free tennis activity in Wimbledon Park, delivered in partnership between the LTA and AELTC for the benefit of the local community.
On behalf of the All England Club, I am delighted that we will be playing our part in saying thank you to those who have gone above and beyond during this past year in helping us to emerge from this crisis safely, and with optimism for the future. We look forward to celebrating this feeling of thanks with our communities throughout the Wimbledon Fortnight, and particularly on Sunday 4 July, our Middle Sunday."
Premiership Rugby spokesperson said : "The Gallagher Premiership Rugby Final will be celebrating #ThankYouDay. Premiership Rugby is honoured to have invited 500 emergency workers to the Final on 26 June and to have May Parsons as a special guest at Twickenham. May is the nurse who gave the world's first COVID-19 vaccine.
"In addition, there will be a minute's applause before the match when Premiership Rugby will ask players, staff, management and supporters across the globe to remember people who helped them in the last 18 months. We are particularly grateful to all our fans, grass roots volunteers, and all those who have helped sustain the game at all levels.
"We hope this inspires the whole rugby family to get involved in Thank You Day, Sunday 4 July, and do something – at their club, at home or in the local park – to express gratitude to their communities, networks and individuals who have got them through this testing period and look forward to better times ahead."
Mike Sharrock, Chief Executive of the British Paralympic Association said: "The pandemic has been particularly tough for disabled people and as our athletes prepare once again to inspire and unite the nation through the power of sport at the Toyko 2020 Paralympic Games this Summer, we'd like to say a huge 'thank you' to everyone who has supported us over the past 18 months.
'We would also like to thank the many thousands of coaches and participants at the clubs and activity providers featured on our Parasport digital hub, which empowers disabled people with the information they need to find an inclusive activity that is right for them and to feel the wide range of benefits associated with physical activity, including physical and mental wellbeing, making new friendships, building confidence and having fun. Let's make Sunday 4 July a day when we all come together to help create a kinder, more connected country.'
Tim Hollingsworth, CEO, Sport England said: "Sporting clubs and organisations across the country are part of the fabric of our society and play a vital part in bringing communities together.
This has never been more obvious, or more needed, than during the pandemic. Thank You Day is a wonderful chance for us all to come together through playing sport and being physically active to recognise this and to say thank you to each other.
There will be so much happening in every nation and region of the UK and with 40 NGBs participating in Thank You day we're delighted that sport is uniting in this way."
Dame Katherine Grainger, former Olympic athlete and Chair of UK Sport said: "It's shaping up to be an exciting summer of sport, and there's no better way to enjoy it than by being back together. Sport at all levels unites people, not just those playing, but the vital support staff, volunteers, coaches and fans too. That's why we're delighted to be joining others across the country for 'Thank you Day' – a great opportunity to acknowledge the way we have all supported each other over the last 18 months".
Eriona, a young coach at ProTouch Academy said: "Over the last year my football club have continued training and bringing together young people in football, through at home training or online meetings. I can't wait to get back together to play again and see my friends. I've seen first-hand how many ordinary people have been doing extraordinary things to help their friends and neighbours. So on Thank You Day I want to thank everyone who's been there for a young person when they needed that boost, and every neighbour who's gone that extra mile to make life a little bit easier."
Communities everywhere have supported each other throughout the pandemic, if coaches and project leaders couldn't deliver sport sessions, they delivered food parcels instead to help their neighbourhoods stay safe and connected.
Blaenau Gwent is one of the communities aiming to celebrate on Thank You Day, they're planning to bring the community together for a fun-packed day of activities for all of the family. It will provide an opportunity to celebrate and thank all those who make it possible to provide services that have supported the community over the last 18 months.
Gareth Winmill – Sport Development Manager at Anevrin Leisure said: "Thank you day will provide us with the chance to bring everyone together, to create a community spirit which we hope will lead to future successes in the area, we already have some amazing people working tirelessly for their community. We are privileged to work with these people and many local partners as without them so much good wouldn't happen. So a huge celebration to thank everyone is certainly needed."
Hundreds of community sport clubs, physical activity groups and charities are getting involved with Thank You Day, here are just a few examples..
● Warrington LiveWire: SERVES Tennis Tournament and family sports day
● North Paddington Youth Club: Indoor Basketball Tournament
● New York Community: Football sessions in the community
● Hop On (Yorkshire): Bike Ride; Half way through the ride to stop and have a coffee break and chat
● ActiveNewham: Walking Group followed by picnic in the park
● Inspired-Succeed CIC: Inviting everyone to take part in a football session
● Living Sport Summer 10K and 5K: Offering free race places to charities, as a thank you for their work and so they fundraise to help more people
● Pro Touch SA: Football tournament with food and friends