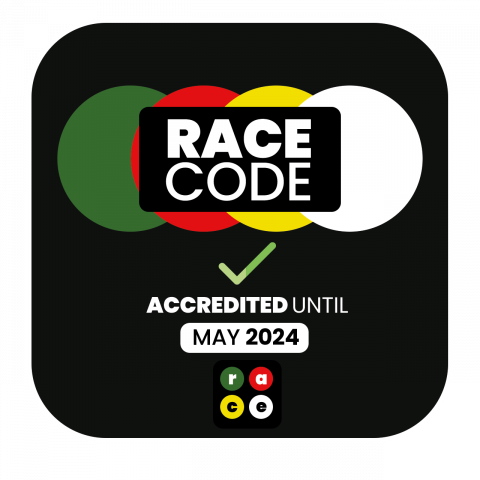 The 15 months since George Floyd's awful killing has seen a huge shift globally, nationally, locally and organisationally for us. In our statement on 15 June 2020 we shared how as a team we felt saddened and troubled by the events, and 15 months on from George Floyd's killing our commitment to our vision and values remains core to who we are and how we work with each other and our communities.
In January 2021 Sport Birmingham became early adopters of the RACE Equality Code 2020. Developed by Dr Karl George MBE, it draws together over 200 recommendations outlined in reports, charters and pledges which aim to tackle diversity and inclusion challenges. The RACE Code provides one set of standards and an overarching accountability framework based on current laws, codes and best practice. It adopts a simple yet robust 'apply and explain' approach as part of its four key principles: Reporting, Action, Composition and Education (RACE).
Last week, we completed the RACE Equality Code 2020 Assessment and are now eligible to use the RACE Equality Code Quality Mark. The Quality Mark demonstrates our actions and commitment to race equality throughout our organisation.
Our commitment and application are an important part of the collective effort to radically move the dial on diversity in the boardroom and senior leadership.
Sport Birmingham are proud of the positive action that we have taken in the past year or so to educate ourselves and improve our practice. As well as completing the RACE Equality Code 2020 Assessment,
we have updated our organisational EDI action plan to include personal, team and partnership level commitments. Included within this is:
the appointment of a Board and staff team lead on EDI;
an internal working group that meets fortnightly;
a monthly team focused EDI session including sharing personal stories, current topics, training;
our commitment to record and publish targets for Race, Sex and Disability for team, senior management team and Board;
our commitment to improve the accessibility, inclusivity and reach of our information, for example by better using our channels to reach people with the right content for them.
we have taken positive action to appoint Board members that (a) represent the communities which we support in Birmingham and (b) give extra weighting to candidates who have the right skill-set but also the personal characteristics to improve the targeted elements of diversity.
we have funded 19 projects in deprived areas across our City supporting ethnic minority groups through the Tackling Inequalities Fund, representing >27% of the total funding. Click here to read examples of the impact of this funding.
This is by no means an exhaustive list. We are on a learning journey and are committed to continually reviewing and refining our action plan. We have made great strides towards many of these actions already. Sign up to our newsletter for up-to-date news on our work in this space.
Use #RacialEqualityCommitment