Commonwealth Games 2022
In 2022 the global spotlight shone on Birmingham. The Commonwealth Games created a palpable buzz of excitement across the city. The event has had a transformational impact and ignited a renewed civic pride, with sport at the forefront of the conversation. Ozzy the animatronic bull featured in the opening ceremony and captured the public's imagination!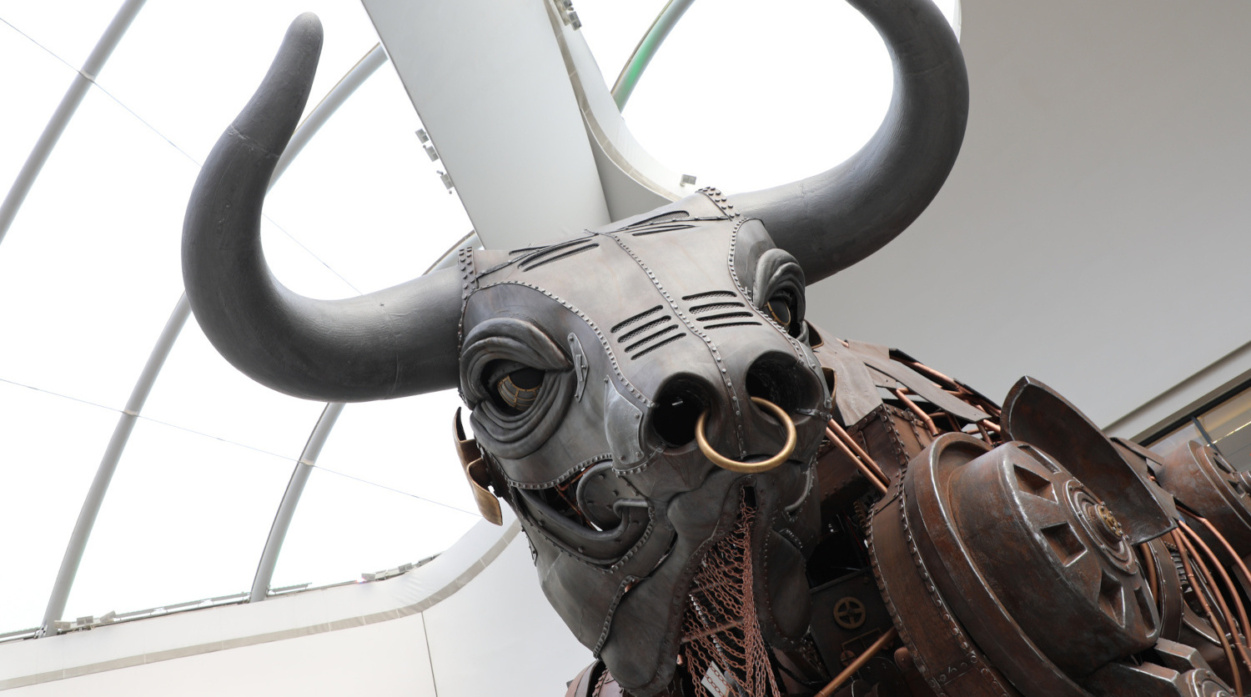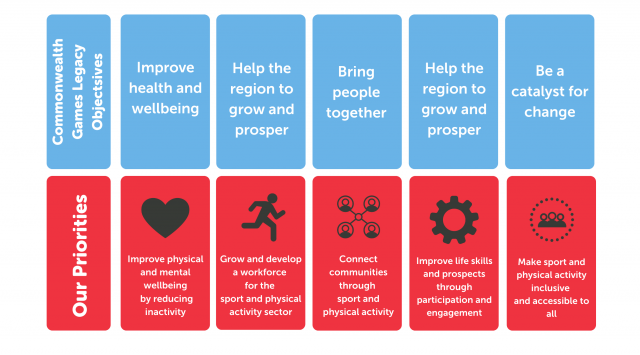 About the games

A brief history of the Games

The 22nd Commonwealth Games took place in Birmingham in 2022, but did you know the first ever games were staged in 1930 in Hamilton, Canada. Back then it was known as the British Empire Games (up until 1950).

Officially known as the Commonwealth Games (since 1978), the event has taken place in a different city every four years, except for 1942 and 1946 when the games did not take place due to World War II.

The Commonwealth Games was the largest international event Birmingham has ever hosted with over 20 sports and 70 nations and territories taking part. Thousands of athletes, coaches and volunteers took part, with over 1.5 million spectators attending.
Get involved with the Birmingham Commonwealth Games Legacy

Sport Birmingham is well positioned to create positive impact through sport and physical activity, generating personal, social and economic benefit. We are working closely with WMCA, Birmingham City Council, The Active Wellbeing Society, Sport England and other stakeholders to coordinate and cultivate the physical activity and wellbeing legacy.

In our manifesto, 'Beyond Birmingham 2022,' we highlight some key actions that we are taking to coordinate and cultivate the physical activity and wellbeing legacy.

Please contact us if you'd like to discuss or work with us to realise our ambitions in Beyond Birmingham 2022.  You can keep up to date with Sport Birmingham's activities by signing up to our newsletter below.
United By 2022
We are extremely proud to share with you these Sport Birmingham projects, endorsed by United By 2022. Here's a bit of information about the projects:

Birmingham School Games

The Birmingham School Games is a city-wide celebration of school sport and physical activity – keeping competitive sport at the heart of schools and providing more young people with the opportunity to compete and achieve their personal best. Primarily, it involves intra and inter-school sports events that are delivered by Sport Birmingham and the 11 School Games Organisers. There are festivals in over 25 sports, including many sports included in Birmingham 2022, which are fully inclusive and include a large number of para events for SEND pupils. Our aim is to increase the number of schools involved in the School Games and thus extend our reach to even more young people in the city. School Games events are also a great opportunity for many young people to develop leadership skills through volunteering. The School Games offer is currently focused on providing virtual personal best challenges that school pupils can complete either at school or at home and are focused on improving skills. We are also placing a bigger focus on leadership and volunteering to equip young people with vital transferable skills.
Birmingham Inclusive Sports Fest

Sport Birmingham and members of the Birmingham Disability Sports Forum created Birmingham Inclusive Sports Festival to bring families and carers together to celebrate equal opportunity and social action in an inspiring community space. BISF has run since 2013 and is organised and delivered by people with disabilities to raise awareness of inclusive sport, health and wellbeing activities, and to encourage those who would benefit most to try something new.
Mental Health through Sport Symposium

The Mental Health through Sport Symposiumis an annual event delivered in partnership with Newman University, West Midlands Combined Authority and Birmingham and Solihull Mental Health Foundation Trust. The collaboration brings together some of the leaders in mental health and sport who are committed to co-creating and co-delivering opportunities to increase the use of sport and physical activity as a means of:

Preventing poor mental health
Helping restore and maintain good mental health
Reducing the stigma around mental health

The symposium offers a platform to share practice and expand thinking in order to build upon national and local movements towards a preventative health agenda, including the topic of social prescribing and examining the increasingly important role of the third sector in supporting individuals experiencing mental health problems. The event is free and open to those who have an interest in making a difference in people's mental wellbeing through sport; who want to share practice, experiences, learn from others and actively contribute to working together for the benefit of others in the region.
Pathway to Podium

Pathway to Podium is an initiative to recognise and celebrate the commitment of Birmingham schools to PE, school sport and physical activity as part of a more enriched curriculum. The programme has been developed by a range of partners including Sport Birmingham, a group of Head Teachers and senior leaders from Birmingham schools, School Games Organisers in the city and has the support of national partners including Association for PE and Youth Sport Trust.

The initiative will be available from September for all schools across Birmingham and is designed to use the 2022 Commonwealth Games as a tool to increase the opportunities for young people to be active for a minimum of 60 minutes every day (in line with the Chief Medical Officer guidelines). Through the initiative, schools self-assess themselves against a set of criteria that combine to form the pillars of an active school. These criteria fall under the themes of PROFILE, PEOPLE, PLACES, PARTICIPATION and PERFORMANCE.