M.A.D Birmingham case studies
Learn more about how the M.A.D Birmingham programme is making a difference to young people across the region.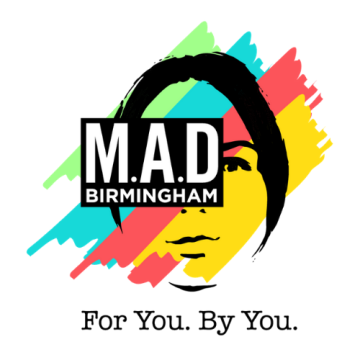 M.A.D Birmingham case studies
M.A.D Birmingham continuing to impact young people in Stockfield during lockdown

The Stockfield youth group was formed by the Stockfield Community Association (SCA) and the Sport Birmingham M.A.D project through a Clarion Futures project, Youth Ambassadors program. The Youth Ambassadors program aims to engage young people from local communities in a social action project. M.A.D had successfully delivered on the program and formed strong relationships with the young people in the area.

At the start of lockdown, a group of ten young people, male, aged between 15 and 22, from Southeast Birmingham, met virtually with M.AD mentors.

What were the group doing before lockdown?

Before lockdown, most of the group where in education (school or college). Some were out of education due to exclusion. The group continued to deliver on their social action project which was to get children aged 8 to 12 to take part in sports/play in the park, delivered by the youth group. The youth group also re-decorated in the pod (a safe space) in the park to engage more young people from the community.

A group of young people also continued to volunteer on the M.A.D half term camp. Watch some of their great work here While volunteering, the young people took part in a resilience course by "DEVELOP YOUR WAY" and Sport Birmingham. The young people delivered sessions based around the outcomes of Self Awareness, Organisation Communication and Determination. The young people also got to volunteer with other young people from across Birmingham where they could share stories and talk about future projects.

Lockdown 1:

The first lockdown was a challenging time for everyone, particularly young people. The young people in the group struggled as their freedom and independence was taken away from them during lockdown which caused stress and wellbeing issues. It was massively important for the M.A.D team to keep in contact with the young people as a group and individuals. Whether for a chat, mentoring, support with education or basic food supplies. This resulted in staff on the project going above and beyond for the young people by being in contact out of hours.

In response to the Covid-19 outbreak the M.A.D team set up a series of virtual youth clubs and round table interactions, whilst adhering to and practicing social distancing measures. The team provided a skeleton program that would enable young people to connect, convene and be supported in a safe digital space. During this time young people were feeling socially excluded or marginalised, they felt their experiences were often hidden or less well known, and their voices were being ignored.

Within the virtual youth clubs, young people had the chance to discuss what they were struggling with during Covid-19. This ranged from home life to lack of interaction with peers. In the youth club young people had support from friends and a Youth Sport Engagement officer to guide them through their journey.

The M.A.D team also used this platform to help young people understand the changing rules during lockdown. Confusing lockdown rules, misinterpretation and media resulted in young people feeling confused about what they could and couldn't do. Our Youth Sport Engagement officers would keep them updated on changes and talk to them about the things they could still do in lockdown to keep them motivated.

With school closures, young people were unsure what was happening with their education i.e would they go to college/school? or do they have to still do their GCSE or A levels and if so when? The Youth Sport Engagement officers would support the young people with their applications for college or jobs, motivation and schoolwork.

When speaking to the young people in the group they told one The Youth Sport Engagement officer how they felt: "stressed" "down", "lost" and "frustrated". This led to the youth group contacting each other less and starting to withdraw from friends even more.

Post lockdown 1:

Since the program funding for the Stockfield youth group ended – the new youth group program relaunched. With the young people receiving continued support from Callam and Daphne.

Due to the outstanding work that the young people have delivered to the community of Stockfield, other projects and companies have expressed their desire to work with them. The young people volunteered on the M.A.D project summer holidays program and supported the Play Care Network in delivering street sessions. The youth group were reimbursed in expenses to show appreciation for their work.

Since then, M.A.D have partnered up with Marshells Coffee Shop on Yardley Road as a safe space for young people to meet and work. The young people can use a laptop and a receive free drink where they can relax and study in peace. The young people "enjoy the place and feel welcome due to the staff being so welcoming and friendly there."

The safe space has already seen young people use the space to apply for jobs and apprenticeships on laptops gifted to them from the M.A.D project.

M.A.D not only provided some of the young people with a Google Chromebook and wifi- devices but also played an active role in helping the young people get an apprenticeship / college and back into education.

Weekly sessions were also set up at the local leisure centre to reconnect the group in a safe social setting. For some young people, M.A.D has brought their friendships back to together.

Lockdown 2:

Since lockdown 2 the young people are in a stronger position. All of the core group are in work, training or education. They have all gained more qualifications though M.A.D using their EduCare licenses. Qualifications such as:

Child Protection in Sport and Active Leisure
Personal Safety
Mental Wellbeing in Sport and Physical Activity
Preventing Bullying in Sport

They are all back in regular contact with each other and have formed even stronger friendships. Understandably, the young people are still unsure and feel a bit uncertain about their future due to lockdown 2 and Covid-19. However the young people have stated they feel like they are in a better position now in lockdown 2 then they were in lockdown 1 because of the support from M.A.D.
Experiencing healthy relationships through sport

FASTN have collaborated with Sport Birmingham and Birmingham City University on a project to understand how mentoring and sports activities can help young people learn about relationships.

The M.A.D programme is run by Sport Birmingham and provides mentoring and activities for young people at risk of, or already in, exclusion from mainstream schooling.

Birmingham City University interviewed the participants of this programme to better understand the relationship skills and understanding they had gained from the programme. The learning from this project has been distilled into a useful document, Experiencing Healthy Relationships Through Sport can be downloaded here.
MAD Role modelling relationships through sport

Two Schools in Birmingham who are using structured sports mentoring programmes with young people on the verge of exclusion have reported improvements in students' abilities and skills to relate to themselves and others.

For children living in deprived communities and struggling with special educational needs in mainstream settings or facing challenging home situations, sport can offer an alternative route to re-engage with school. With growing numbers of exclusions, schools and pupil referral units in Birmingham were searching for something new, so eagerly tried out a new intensive 6–12-week course from Sport Birmingham.

Schools using this innovative approach –delivering relationships education through a completely different part of the curriculum – are reporting big improvements in behaviour, with children learning new ways of coping with stress and taking time to think before reacting to situations. Pupils learn about respect and are beginning to think through consequences, in safe relationships with responsive adults whom they respect.

A team of five runs weekly four-hour sessions for up to 15 young people selected by the school as needing specific support beyond the existing school provision, focusing on areas such as relationships, teamwork, leadership, resilience and responsibility.

The sessions include activities held inside and outside the classroom, and the approach is flexible to let the young people take the lead. The order in which topics are taught depends on group dynamics. Much of the work centres on how the young people conduct themselves in three environments – school, home and the street – and the consequences of actions in each.

The sessions are co-led by youth mentors, who provide positive role models to the students, demonstrating healthy relationships.
One young person says, 'It has encouraged me to avoid fighting and doing stupid or bad stuff offered by friends. The mentors use slang language that I understand, and they know the streets better than us because they have lived through our generation. Talking to them is like talking to a friend! I've learned how to box clever and avoid certain situations.'

The physical activity element itself ranges from football and cricket to dance, and even paintballing or go-karting if funds can be found. For students less interested in traditional sports, the paintballing and go-karting can be used as an opener to help them relax. There are no expectations of skill or competition in any of the activities, but many students do enjoy developing their skills and enjoy the team aspect of some sports.

The in-school provision is part of a wider programme. In the holidays, a van parks in areas known for anti-social behaviour. Pop-up tennis, football, volleyball, rounders, WiFi and music are available, and young people are encouraged to do something positive with their time. Holiday activity weeks and youth clubs also take place on neutral ground, where young people from various postcodes can come together without fear of local gangs. This work builds trust between the students and the provider. It also means the course leaders gain an in-depth understanding of the young people's situations and can ensure the life skills they teach are relevant and tailored to their needs.

Lucy Meade, Guidance and Support Centre Manager at the Arthur Terry School, says, 'Students really enjoyed the range of activities. The programme supports change and offers a safe space to try out new skills. The experience of team has enabled our young people to focus on leadership, resilience and responsibility.'

Alison O'Connell MBE, Youth & Community Reach Out Manager at Sport Birmingham, says, 'Focusing on behaviours at home, school and on the street reflects the key environments of young people and acknowledges that relationships in each situation require different responses. For young people at risk of exclusion, providing activities both inside and outside the learning environment can help build trust, and this at at the core of what the mentoring service provides'.

Credit: This case study was written and produced by FASTN as part of their snapshot of Relationships and Sex Education (RSE) practice across England, delivered by schools, organisations, practitioners, councils, parents and communities, working in partnership.

FASTN works for a society in which all children and adults can experience safe, enduring and nurturing family environments, and where children can develop the skills needed for positive, committed relationships in adulthood. Further information can be found here: www.fastn.org | info@fastn.org | @fastn_org
Upskilling Success: Long Nukez Youth Club

In the Summer of 2018, the Sport Birmingham MAD team were approached by West Midlands Police to deliver activities across the south of the city, due to limited provision in the area. There were four areas, one of these being Bartley Green, with the concept being to go out into the parks and conduct outreach work to engage the local young people in positive activity, for around six hours a week.

Having had the free summer sessions, a lot of parents came back and said they wanted a youth club for somewhere for their kids to go in the long term. Supporting Long Nukez youth club, MAD helped the club apply for Active Citizens funding to kit out the youth club with equipment and hall hire in order to host the young people. Once they got the go ahead they paid for the hall, paid for a container, some equipment they started the youth club 5-7pm with the younger ones, then they work with the older ones later on in the week. All volunteers ran the sessions and the mums involved in the club are really enthusiastic and talk to lots of different people in the local area about the project to kids and fellow parents. By getting the community to take ownership and buy into the project, there is a feeling they can reclaim their area. "I think the project gives the parents a little bit of hope in terms of challenges the area faces and there can be a lot of positive activity in the local area when it comes to their children." Alison O'connell MAD Reach Out Manager

"I've got a lot of pride for our community now, whereas I didn't prior to this. I feel like we're trying to help the kids and the parents. We want it to be a hub so we'll have housing and benefits people come talk to the parents, umbrella sexual health are coming to talk to the older kids, a homework club being setup there's a lot of exciting things in the pipeline" Volunteer

One week changes to the next depending on what the kids want to do, and delivery is very much youth led. Some kids won't do the sport but then there is the arts and crafts sides. The project is currently seeking a projector to be able to put on movie nights when the weather isn't so good to expand their offer even further.

"My favourite things are basketball and singing I'll sing anything! I'd love this so continue. If MAD hadn't come over to the park that one day, my mum wouldn't be here it really does change people's lives. I've noticed that there's a lot more children feeling safer round the area and a lot more children talking to one another. My mum has become a lot calmer, she's taking a noticing to more of the children in the area. I'd describe LN as life changing, amazing and sociable. I'd like to see a lot older kids coming to the youth club as there's a lot of problems with knife crime here and then we might be able to nudge a few kids to more positive activities." Participant

Provision also includes often a hot snack, toasties being a crowd favourite but often this is vital for the young people that come through the youth club's doors "MAD's work is vital with kids and getting them to do more positive activities. I feel the food is an important factor in retaining kids to the youth group, we have kids that come from a wide set of situations which might mean they don't eat at home and it's vital they can rely on some sort of food to fill their stomachs here as their other meal would only be a school lunch." Kitchen Volunteer

The MAD team are still there doing bits and pieces but what we've essentially done is up-skill the mums. These mums have now got their health and hygiene certificates, have done a youth work course, obtained DBS clearance, have done their Safeguarding and Child Protection qual, first aid and a couple of them also became Tennis Activators. Once the club is constituted and a bank account is set-up, MAD will completely come away from the area and the mums will take full ownership of the programme.

If you would like to know more about the project in Bartley Green, follow their facebook here If you're looking for advice/support on setting up a youth club in your area or feel MAD could have an impact in your area contact us
MADFUNDAY

We can confirm that our first MADFUNDAY event went down a success!

Just under 100 young people registered and got involved on the day…

Activities included a 5-A-Side football tournament, Tennis, Pana Football, Workshops with Umbrella Sexual Health and Music/DJ by DEEJAY RJ.

A few quotes from the day…

I think today has been a positive, there's been no trouble, all the young people have got on. We've had lots of different kids from different areas, different postcodes, coming together, working together, for the MAD project… and that's what it's all about 'Making A Difference' bringing people together, and changing people' mindset.

Leon, Youth Engagement Officer for MAD Birmingham

If you go to MAD, they give you extra stuff to do so every half term we go to MAD

Young Person

I liked the atmosphere, like everyone was together and stuff like that

Young Person

To see our MADFUNDAY all in action, watch our YouTube video below!
The MAD mentoring programme

One of the main goals for our project is to boost the aspirations of young people.

The MAD mentoring programme, which takes place in schools across Birmingham, was first set up in September 2017 when we realised there was a need to support the young people more widely than just during our evening weekly sessions.

Since the programme began, we have now engaged with 50+ students from secondary schools throughout the city and we are amazed by the change in mindset of these young people over the 6-week period of working with them.

Our mentoring programme offers the students a balance of indoor classroom and outdoor learning.

The important factor to this intervention is to provide a non-judgemental, confidential outlet / sounding board for the young people; gaining trust through a neutral, safe and trustworthy role models.

The sessions focus on teamwork, leadership, resilience and responsibility. The MAD team deliver these key themes through their own mini workshops, presentations, group discussions, classroom games and outdoor sporting activities.

After a term ends, we will then follow up with a consultation and touch-points to review and reflect on the progress of the young people in the schools.

The programme is tailored to the schools needs and timetable. We are a fully flexible team and will try our best to cater for the school.

Here's what a few of the young people had to say about our mentoring programme by exploring a few different themes.

1) How it has changed the young person's outlook on life…

"During the M.A.D program, which is a program designed to help you think better, I have found my sessions very well used as they have showed me much more in life and that how certain things can make you feel down if you don't use them right!… Thank you for letting me join!"

"You learn about why you need school… also they give you good tips like listening, respect, box clever. Also you can have fun with everyone in the group and the people that do it"

2) Developing their understanding on Mental Health…

"Mentoring is good because it helps me with stuff like understanding mental health and depression. Another reason it is good is their advice on how to avoid getting in trouble and I've used it quite a lot at home and at school. Overall I would recommend it to anyone and it is a good experience"

"I have thoroughly enjoyed my times with the mentor group as it has helped me to understand other people's views and to respect them, I have found that I can relate to most of what is said by the group and it gives me an opportunity to express views and share past experiences so that the rest of the group could possibly learn something new as I have when I have listened to other peoples stories"

"Sometimes we also do sports which I like so that we are not just inside…We speak about mental health and social media, sometimes the mentors tell us stories about them or what they have done or been through"

We also have a quote from a young person about our MAD staff…

The mentors use slang language that I understand and they know the streets better than us because they have lived through our generation. Talking to them is like talking to a friend!"

And finally, a quote from the Teacher at the school…

"Students who took part in the MAD programme really enjoyed the range of activities and the balance between learning in the classroom and outside. The team offer a non-judgmental and genuine programme which supports change and offers a safe space to try out new skills. The experience of team has enabled our young people to benefit from an opportunity outside the normal school day to participate in a highly successful 6 week programme focusing on teamwork, leadership, resilience and responsibility"

If you work for a school and feel like your students would benefit from the mentoring programme, please get in touch with the MAD team on email

Make.A.Difference (MAD Birmingham)
Round table discussions with MAD

At MAD Birmingham, we make it our mission to provide each young person with the understanding of how crime and anti-social behaviour can lead to consequences. We also promote social inclusion and community cohesion. The team will always support the young people and guide them in the direction to the more positive opportunities in life.

One way we do this is by discussing the real life examples shown on YouTube videos and documentaries. The topics of discussion include things like, crime, gang culture, knife crime and more sensitive subjects such as Mental Wellbeing and Pressure.

Below are a few quotes from our Mental Wellbeing round table discussion…

"Only emotion you feel is Sadness or no emotion at all"

" Some people turn to Drink and Drugs"

"When you get depressed its because nothing good is happening and then you have thoughts of around suicide"

A young person also commented on how the MAD sessions help the young people keep away from the streets…

"It's a thing that helps the youth to stay away from trouble, so the couple of days we be there gives us something and activities to do that will keep our mind away from trouble"

If you know of any young person/s who would be interested in this, please contact us and refer them to us!

Please visit our Instagram page here to see an example of a YouTube clip we showed the young people about crime and gang culture at our Perry Barr session in Holford Drive Sports Hub.
Talk with Kye and La'Ziah ft. Emily and La'Sharm

On Tuesday 15th January at Nechells, our Digital Marketing Apprentice, Emily, interviewed a few of the kids at the session that is held at Nechells Wellbeing centre every Tuesday!

Listen to our small talk about the MAD project and find out more about the kids who come along to our Tuesday session at Nechells…

Sessions are FREE and the vibe is great! Video below…
2018 has been a MAD year!

There is just not one word we could use to describe MAD. But in a few paragraphs, this is what MAD is all about…

MAD stands for Make a Difference.

It is a Youth Engagement Programme which uses activities, such as sport, to tackle social issues.

Our programme is about putting the young people first and presenting them with an opportunity to shape their future and the direction of the project.

Watch MAD in action on our YouTube channel here: https://www.youtube.com/watch?v=wqojUnnITQU&t=2s

(Subscribe whilst you are there too!)

Our Main Highlights of 2018 have been:

400 young people accessed the Summer/Autumn programme
The MAD team expanded from 3 to 8 this year. This includes taking on a Digital Marketing Apprentice, a new Youth Engagement Officer for Stechford, two Youth Engagement assistants and a Coach Core apprentice.
Holiday activities in the half term weeks have been in collaboration with Fit & Fed, with over 3,500 meals provided to young people during the holiday period as part of 'Holiday Hunger'
We collaborated with Bernardo's and the Holiday kitchen programme to give free food to our kids during the holidays at the Nechells sessions.
There was 20 hours of outreach work in South Birmingham, resulting in a new youth club to be set-up in Bartley Green. Read more here: https://www.sportbirmingham.org/mad-blog/2018/10/summer-in-the-south
The music sessions have been really popular with the young people, whom have been able to express themselves through the mic, creating their own beats as well as some being involved in radio adverts for the programme
1:1 mentoring in 2 schools and 3 hub sites with over 30 young people
Key deliverers: COB Wheelchair Basketball, Lorrell Dance, Youth to Legend Fencing and Birmingham Playcare Network
The 'MADFam' volunteer programme has started, with over 20 new volunteers involved