Mental health
The power of sport and physical activity goes beyond just physical health and wellbeing. We have partnered with respected national charity Mind, to raise awareness, tackle mental health stigmas and support people with mental health problems to become more active.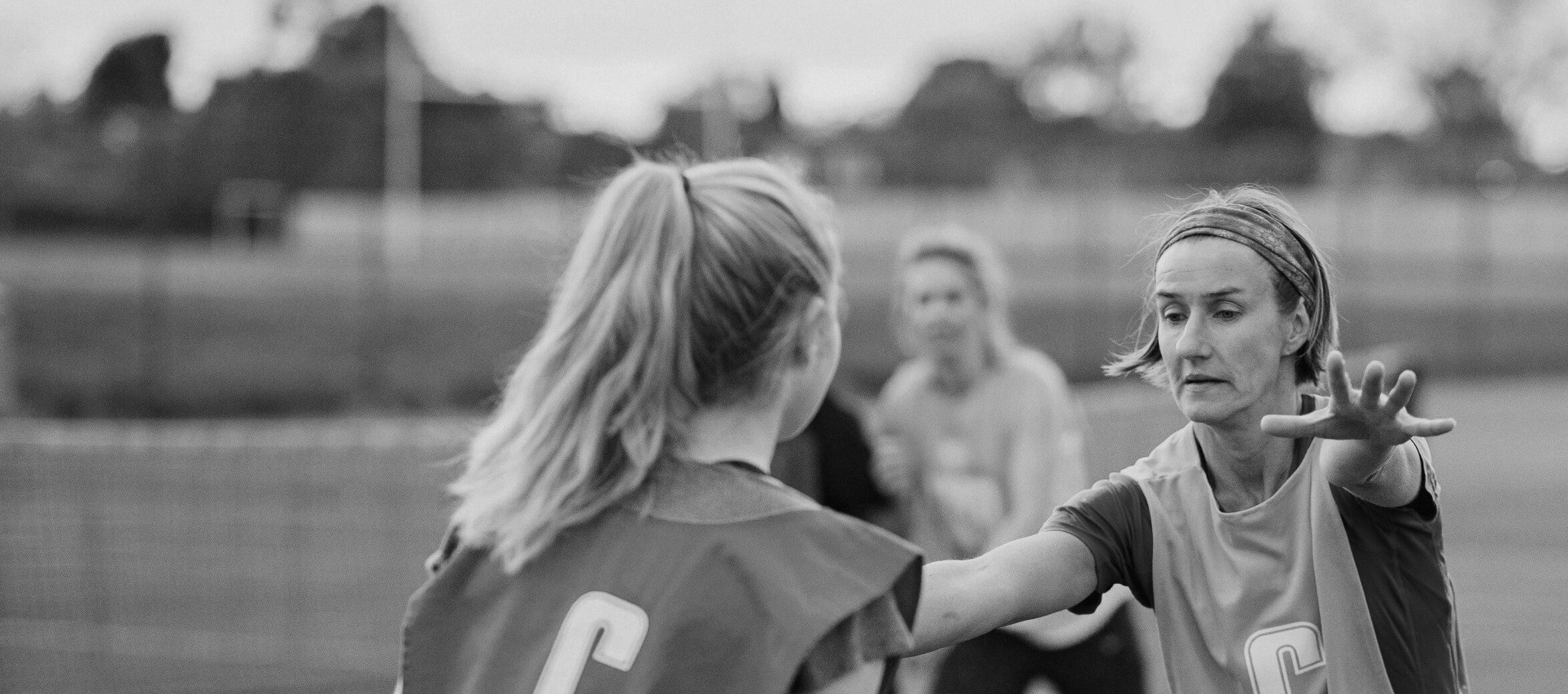 Unsure about where to turn?
Birmingham MIND is the largest independent mental health charity providing services in and beyond the City of Birmingham's boundaries. You can get in touch with them here.
If you cannot access the above support for any reason, the Hub of Hope is a mental health database that brings grassroots and national mental health services together in one place. It can be great to provide a stopgap whilst waiting for mental health services. Visit the page here to find nearby services.
Get support
Birmingham Mental Health Champion Programme

Why are we launching this programme?

1 in 4 people will experience a mental health problem in any given year. Research shows that being active improves our mental health and reduces our risk of developing depression by up to 30%, as well as playing a big role in supporting mental health recovery.

Over the past 2 years Sport Birmingham have been working closely with Birmingham and Solihull Mental Health Trust and our evaluation partner, Newman University to deliver Moving Lives Healthy Minds, a social recovery project for over 25's, diagnosed with Severe/Enduring ill mental health. Initial findings from the evaluation show the positive impact that participation in physical activity within a community setting has on service users confidence and social skills, as well as providing a sense of achievement and feeling of acceptance and normality within a group setting.

With our partners, Birmingham Mind, Sported, Living Well Consortium, Places Leisure, Birmingham and Solihull Mental Health Trust and Aston Villa Foundation we are launching the Mental Health Champion Programme:

To help raise awareness of Mental Health across Clubs/Organisations in the City.
Support clubs/organisations to increase their knowledge, understanding and confidence in having positive conversations around Mental Health.
Support referrals from professional organisations into local sport and physical activity opportunities and provide clubs/organisations with the knowledge to refer into professional services if required.
Advocate the benefits of Sport and Physical Activity for maintaining and improving mental health.

 

What is a Community Mental Health Champion?

An individual who actively promotes and is an advocate for the benefits of sport and physical activity for maintaining and improving mental health in our local communities.

Key Skills Required

Good Communicator

Passionate about the benefits of Sport and Physical Activity in maintaining and improving mental health

Confident to have positive conversations around mental health

An open and non-judgemental attitude

How could it benefit your club/organisation?

Increased and more diverse club membership.

Improved links with local community organisations.

Retention of club members due to improved support network.

Improved reputation/recognition of club/org within the community which could support with attracting funding.

What could your role involve?

This is a voluntarily role, so there are no expectations on the time you commit to it.  Some examples include:

Sharing good practice about mental health across the club/organisation through distributing posters/flyers & across social media
Welcoming new members to the club.
Encouraging positive conversations around mental health
Signposting people to professional support if required.
Organising tea/coffees after a session to allow members time to connect and socialise.
Creating links with local mental health organisations
Promoting National Mental Health Campaigns

*You aren't expected to be a Mental Health Expert, advice and counselling should only be provided by professionals.

 

What support will you receive?

Access to Mental Health Awareness for Sport and Physical Activity E-Learning Course
Option to undertake a Mental Health First Aid Course
Access to resources to support you within your role.
Becoming part of a network of ambassadors across the City where you can share best practice.

 

To sign up

You must be aged 18+
Your club/organisation must be based in Birmingham.
Sport and Physical Activity doesn't have to be the club/organisations primary purpose, however there should be some element of this in the work you do.
Please complete the application here

You will receive an email to confirm we have received your application.

Applications will close on Friday 9th June 2023

If you already have a similar role within your club/organisation we would also love to hear from you to share best practice and support with additional training opportunities. Please contact nicola.english@sportbirmingham.org
Ahead of the Game – Moving lives, healthy minds

Sport Birmingham, Birmingham Solihull and Mental Health Foundation Trust (BSMHFT) and Newman University have secured £425,000 from Comic Relief for a three-year programme that will enable the organisations to work in partnership to bring about changes across people, organisations and local services that will impact local communities and inform a future 'model' of working.

Approximately 15,000 people in Birmingham are under the care of BSMHFT Community Mental Health Teams with a diagnosis of severe and enduring mental illness. As many individuals accessing these services have a long history of mental illness, they typically have limited coping mechanisms, low resilience and are subsequently are less likely to be engaging in meaningful or healthy activities.

The programme will focus on working with service users of the BSMHFT Community Mental Health Teams (CMHT's) based in Erdington and Longbridge, and will involve consultation and co-production with service users. The aim will be to create supportive and purposeful physical activity initiatives centred around patient motivations that are embedded in their long-term recovery plans.

In each locality, community organisations with previous success in engaging individuals with additional needs in their activities will be supported to take a lead role in forming a 'community of learning' around working with individuals with long term health conditions and poor mental health. These insights and experiences will in turn be used to create a successful social recovery pathway using sport and physical activity with a peer mentoring support system in place.

Amy Bird, Senior Partnerships Manager at Sport Birmingham said: "This three-year programme presents a unique and exciting opportunity to create a lasting impact on mental wellbeing while encouraging an open culture around mental health. We are looking forward to working closely with sports organisations and community groups in the areas of focus to create a broader offer that is fully inclusive, and where individuals feel motivated, confident and supported when taking part in activity in their local community."

Amanda Gatherer, Chief Psychologist at Birmingham and Solihull Mental Health NHS Foundation Trust said: "I am delighted that we have been successful in securing Comic Relief funding for our service users in community teams to access sports-based activities and clubs. This is such an exciting and innovative development and I'm really pleased that our focus on mental health and sport can have a real impact on the care we deliver and support our service users on their recovery journey."

Adam Benkwitz, Head of Sport, Health & Social Care at Newman University said: "The University is delighted to be working again with our partners on an innovative project that will hopefully have a positive impact on people's lives across our city."

Olly Dawson, Senior Partnership Manager Sport for Change at Comic Relief said: "Sport has the power to transform a person's wellbeing and can help break the shackles of enduring mental illness. This three-year project will aim to help people across Birmingham build a brighter future."

For more information regarding the Ahead of the Game Project or to get involved, please contact us.

Read an update on the Moving Lives, Healthy Minds project from September 2021 here.
The MIND West Midlands Physical Activity Network

Led by Sport Birmingham, in partnership with the five other WM Active Partnerships, the WMCA, Newman University, StreetGames, local MIND centres and other stakeholders, we are committed to working together to increase the number of service providers who are equipped with the skills to support and engage people with mental health problems in sport and physical activity.

We will do this through the new MIND WM Regional Network hub, by creating a platform for networking, shared learning and taking positive action to improve how we work together across sectors.

Over an 18 month period, each hub will aim to engage and support a minimum of 70 organisations in their region and upskill 160 people, such as coaches, volunteers and staff in mental health awareness.

We want to hear from you if you are an individual or organisation that would benefit from MIND's NEW Mental Health Awareness in Sport and Physical Activity+ (MHASPA+) eLearning training or other mental health and inclusive workshops.

Over 35,000 coaches enrolled on the first release of the course (several hundred of these coming from the West Midlands alone!), which has now been updated to enhance the learning experience and to make it more inclusive.

You can book directly onto this course via UK Coaching HERE or you can view the range of other available training across the region HERE.

In addition to the above, we want to create opportunities to come together in order to encourage co-production, share ideas, capture experiences and learn from one another in an open and inclusive environment.

While this is challenging given the recent and ongoing situation with COVID-19, we aim to stay connected and support one another to look after our mental and physical health in the months ahead. You can do this by following us on Twitter @MHtSport and keeping in touch with the programme nationally via #MindActiveNetwork. You can also send your enquiry to us directly via the following contact form.

How you can get involved

If you'd like to be part of this growing MIND Regional Network in the West Midlands or want to get in touch with us about accessing training and resources, please contact us.
Getting active at home and outdoors

MIND have developed a Get Active, Feel Good webpage providing some handy tips, resources and inspirational stories to help you stay active at home.

The West Midlands Combined Authority have recently launched Thrive at Home, a new recommended resource for employers, line managers and employees to help support the mental health & wellbeing of remote teams and homeworkers.

We also recommend practicing relaxation and mindfulness to boost your mood. Follow an NHS yoga workout to improve strength and tackle stress, try this mindful breathing exercise from Every Mind Matters, and read hints and tips on mindfulness from the NHS.

How about you research the local walks you want to do, plan a new cycle route, or get the kids to make a list of new activities they'd like to try? Our friends at Transport for West Midlands (TfWM) have provided basic information about social distancing, local walking and cycling routes, bike safety and maintenance. You can explore this here.

Guidance on accessing green spaces safely can be read here.

Join the Movement

Join the Movement is a Sport England campaign, funded by The National Lottery, giving you the advice and tools you need to help you stay active.

Tai Chi and Qigong

The practice of Tai Chi & Qigong strengthen both mind and body and classes are open to all ages and abilities. Classes are held both online and face-to-face across Birmingham, Bromsgrove, Lichfield and Tamworth.

Classes are available both indoors and outdoors and are also FREE in local parks.

Find out more about Tai Chi and Qigong across the UK here. 

The Importance of Sleep

Stress, anxiety and depression are some of the most common causes of insomnia. Exercise or physical activity is a fantastic way to not only improve your physical health, but also your emotional wellbeing which in turn, should improve how you sleep.

Our friends at How to Sleep have created an in-depth guide about managing insomnia and healthy sleep.
Mental health training

Sourcing the most appropriate mental health training can often be challenging given the extensive range of providers and resources available.

We have been working closely with our friends at Sport Structures to complete a mental health training review to really make simple the mental health training process for the sporting sector and beyond. This concise breakdown of mental health training will provide clarity and transparency around the current offer and will help make sourcing the most appropriate and relevant mental health training as straightforward as possible.

Mental Health Training Decision Tree

The mental health training decision tree will help identify what courses are most relevant to both you and/or your organisation.

From course duration, to cost and everything in between, the decision tree will help you find the right mental health training course for you.

Mental Health Courses

Once you have been through the Mental Health Training Decision Tree and identified what training is most relevant to you or your organisation, the natural next step is to learn more about the course content and to understand whether or not the training is indeed suitable.

All of the documents below expand further on each of the training courses identified in the Mental Health Training Decision Tree.

Level 1 Award in Awareness of First Aid for Mental Health

Level 2 Award for First Aid for Youth Mental Health

Level 2 Award in Awareness of First Aid for Mental Health 

Making Sense of Mental Health Problems (Open University) 

Mental Health Aware – Mental Health First Aid England 

Mental Health Awareness for Sport and Physical Activity 

Mental Health First Aid – Mental Health First Aid England 

Mental Wellbeing in Children and Young People (Educare)

Mental Wellbeing in Sport & Physical Activity (Educare) 

The Links between Exercise and Mental Health (Open University) 

For more information on the Mental Health Training Decision Tree, mental health training courses, or any queries on mental health and wellbeing, please contact us.
Support and resources

There are a number of useful resources and organisations that can offer support to help those suffering from mental health problems to become more active.

Find out more about mental health help and support across Birmingham here.